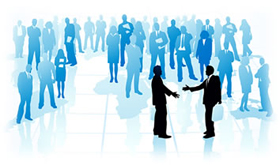 About Us
HongKongRecruitment.com was born in 2004 with a mission to give the recruitment industry a shake up. There has been too much negative publicity among the industry. Clients and candidates have been subjected to minimum service levels for long enough. It is now the time for a new start for everyone. We are a boutique search firm without the big firm's attitude.
We see our candidates and clients as our partners. Your success is our success.
With partnerships and alliances with other reputable recruitment agencies in other major world-class cities in China, in Singapore, and in the US, we are confident we'll be able to offer our clients and candidates an unprecedented level of services and resources.
In today's competitive market, recruiting and retaining top-notch talent is a challenge - it requires a compelling message to attract the most talented individuals to join your organization. To succeed you need to be innovative. Combined with a level of customer service rarely seen in today's marketplace, your organization will benefit in ways you never thought possible.